5 Factors to Consider When Adopting Hybrid Working
communication
Written by PSTG
02 | 11 | 21
5 minute read
Written by PSTG
02 | 11 | 21
5 minute read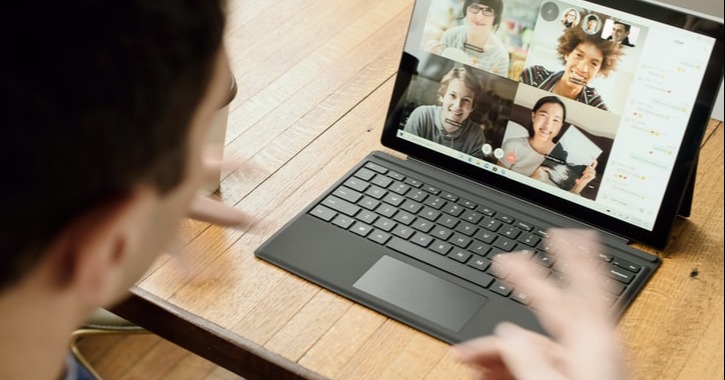 Decreased operating costs, a vaster talent market and increased productivity all account for the mass adoption of hybrid working in recent months. Microsoft, Ford and Spotify have all come to favour flexible working, offering some sort of out-of-office arrangement for their teams. So, why shouldn't you?
It's a good question. But first, you'll need to consider a few things before diving headfirst into hybrid.
1. How Different Employees Will React to Remote Work
Realise that not all employees will get off to a flying start with flexible work. Some employees might take the change in their stride, while others may need more time to adjust.
It's your job to understand your employees, spot signs of burnout and step in if you think hybrid working negatively impacts someone's life. You might want to offer advice across the board about how to deal with the transition, invest in a wellbeing service and signpost to software to make the change easier. Features like Microsoft's virtual commute, for example, helps create a clear separation between work and non-work activities, while simulating a typical day in the office.
2. Which Systems and Software You'll Adopt
Building an infrastructure for hybrid work is essential before giving employees the green light. Consider how your team might communicate and collaborate out of office and which tools you'll need to facilitate it.
Software packages such as Office 365 and Microsoft Teams can take away a lot of the strain of setup, as can project management tools and time trackers. Test tools on a small group before rolling them out to the wider team and, of course, do all of the usual cost and feature analysis as you would with any other organisational investment. Just make sure you have something in place to support your team while they're away. Otherwise, hybrid work becomes a guessing game.
3. How Out of Office Work Links With Exhaustion
Be aware of the challenges of adopting a hybrid working model. Planning for potential exhaustion and dips in productivity can help you set realistic targets and plan activities to best set your team up for remote success.
Now that your employees are working from home, they'll still need to take five on occasion and replace their watercooler chats with an alternative. To boost morale and keep departments talking, use foresight to plan preliminary meetings, even if these are only casual catch-ups. Use Microsoft Team's group chat feature to simulate office small talk and keep the momentum going with project collaboration.
4. Which Activities Are Essential to In-Office Work
If the pandemic has taught us anything, it's that we can get a lot done in isolation. (Seriously, there's already been 148% more meetings between Teams users). However, in a perfect world, we'd still rather carry out certain activities in-office for convenience, confidentiality or other reasons.
Sit down with your department leaders and create a list of essential in-office work. Anything from disciplinary meetings to development sessions can feature here and provide a framework for developing a hybrid working policy. You can even ask your employees this question and see what they most value in person. Together, you'll be able to craft a plan to utilise the best of both worlds, letting you tap into the real value of hybrid work.
5. What to Do About Cloud Security and Personal Devices
Most of our concerns revolve around our employees, but we should reserve a small share of our worries to stop and think about security. Spending more time online and sharing more data is a significant consideration when embracing hybrid work.
You'll need to factor in whether to tag office equipment and if indeed you should allow your employees to use their own devices. First, you'll need to research the implications of a bring your own device (BYOD) policy and revise your IT infrastructure, as well as how it's currently managed. The chances are you'll need to invest in more cloud security provisions and check you have the basics right before you go ahead and officially become a hybrid working office.
Other Things to Think About When Switching to Hybrid Working
These are just the basics of honing in on hybrid work. In reality, there's a whole world of differences between keeping things the same and disrupting the status quo. You might also want to mull over:
Whether meetings will play a prominent role in hybrid work
Ways you can preserve company culture, even when remote
Why siloed work might creep in and how to stop it
How you can lead by example to encourage healthy adoption
If policy, processes or contracts require change
Which individuals you might need to upskill
Where there might be room for innovation as a result of hybrid working
How to police hybrid working across all departments
How you'll monitor the big change
Don't let this long list put you off, as hybrid working has some real advantages for both employees and employers.
For one, when introduced correctly to organisations, hybrid working can empower employees to take control of their schedule, work and career path, proving the tough transition ahead is almost always worth it.
Discover How the Digital Workspace Empowers Employees
The digital workspace can empower entire teams and accelerate projects from clever collaboration to less time wasted working out who said what. Individuals just need to understand the technological tools at their fingertips to unlock the power of online.
Want to discover how digital workspaces could make a difference to your team?
Read our blog all about employee empowerment to imagine its adoption in your organisation. It'll get you ready for business transformation and take you one step closer to happy hybrid working.