It's difficult not to have noticed that Robotic Process Automation (RPA) and the wider automation industry has grown significantly in recent years. Take retail, for example. It's thought that by the end of 2021, around 60% of all retailers will have adopted automation in some capacity.
We deliver RPA solutions for organisations from a range of sectors, so it's our job to know where the industry is heading next. Here are the latest RPA trends we expect to be popular in the near future.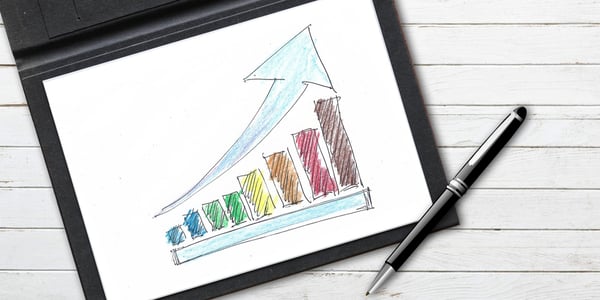 RPA Trends We Expect to See
A Wider Deployment of RPA
We expect to see RPA implementation taking place across a wider range of businesses. Digital innovations like these are no longer just a viable option for the largest organisations. RPA is increasingly being adopted by SMEs who are also looking to benefit.
It's such an in-demand strategy for SMEs because they can boost productivity and do more with less. They may only have a small team of staff, but with a larger digital workforce, they can get through more work than their size would suggest.
Evolving Job Roles and Responsibilities
There's a common misconception that RPA completely removes the need for a human workforce. A staff member may see automation of this kind on the horizon and worry about their job security.
This isn't the case. In fact, RPA won't see a reduction in jobs - it'll simply take over the mundane aspects of your role, giving you the time to work productively on high-value tasks.
Job roles may change once implementation has taken place. RPA assists business operations, but it can't manage them autonomously. Human workers are needed to analyse the performance of RPA and understand where adjustments need to be made to improve performance.
Customers Will Encounter RPA More Without Even Realising
At the moment, it's sometimes easy to spot when we're dealing with something that isn't human. It might be a lack of engagement or limited capability - either way, we know when we're encountering something that's artificial in origin.
However, in the future, we expect RPA to deal with customers more and more, especially when it comes to customer service. By the end of 2020, it's thought that 85% of customer service interactions will be powered by automation.
Eventually, interactions will be seamless enough that we as customers won't know that we're dealing with an automated process.
RPA, AI and Machine Learning
These exciting technologies all fall under the tag of Intelligent Automation (IA). The aim of AI is to build better workers, both human and digital, by utilising a range of cutting-edge technologies.
Eventually, these systems can be programmed to learn from the data they're working with and make decisions without any significant human interaction - this is machine learning (ML).
Whereas RPA is completing menial tasks, AI is a virtual assistant thinking about them to understand the best course of action. As we see RPA implemented more, we'll likely see a growing overlap of RPA, AI and ML that results in effective and innovative process improvements.
Where the Industry Is Heading and What This Means for You
Some estimates believe that the RPA market will be worth around £3.12 billion by 2025. As demand increases and technologies become more affordable, it's expected that businesses of all sizes will widely adopt RPA solutions.
The earliest and most eager sectors to invest in RPA have been the banking, financial, healthcare, manufacturing and insurance industries. Any organisation with enough financial clout that used to rely heavily on legacy systems.
However, as we mentioned earlier, we expect SMEs to also be keen adopters of RPA in the near future. They might already be considering implementation of some kind but eventually, the possible growth opportunities will be too tempting to ignore.
By introducing automation, SMEs can ensure their business is efficient and lean. Any outdated processes or ineffective allocation of resources can lead to stagnation and hinder growth. Switching to a virtual workforce for repeatable and menial tasks ensures the business is productive.
This productivity is caused by the 24-hour working day that digital assistants can manage. As they don't need to stop for breaks, they can work through the night and complete tasks at a far faster rate than any human. Human error is a thing of the past.
RPA gives you the freedom to reallocate your staff to work on strategic projects that are more focused on innovation and customer satisfaction. This innovation can ensure that your business stays ahead of the curve and establishes itself as a leader within the industry.
Resist the adoption of automation and you're more likely to fall behind your competition. Industry predictions show us that businesses from all sectors are heading towards automation. In fact, Deloitte estimates that we could achieve near-universal adoption within the next five years if current trends continue.
The best time to start your RPA journey is right now. The wide range of tools and possible solutions available can feel a little overwhelming and you might feel as though you don't have time to dedicate to it. We've put together a downloadable eBook that can help.
Getting Started with RPA
Our eBook focuses on the key advantages that your business will enjoy once an RPA solution is in place and how to actually get started. It's packed with stats and advice from our experts who have helped many organisations like yours to embrace digital transformation through improvements from automation.
Click the link below to download the eBook now.