Cloud Transformation: What It Is and How to Embrace It
Innovation
Written by PSTG
27 | 08 | 21
6 minute read
Written by PSTG
27 | 08 | 21
6 minute read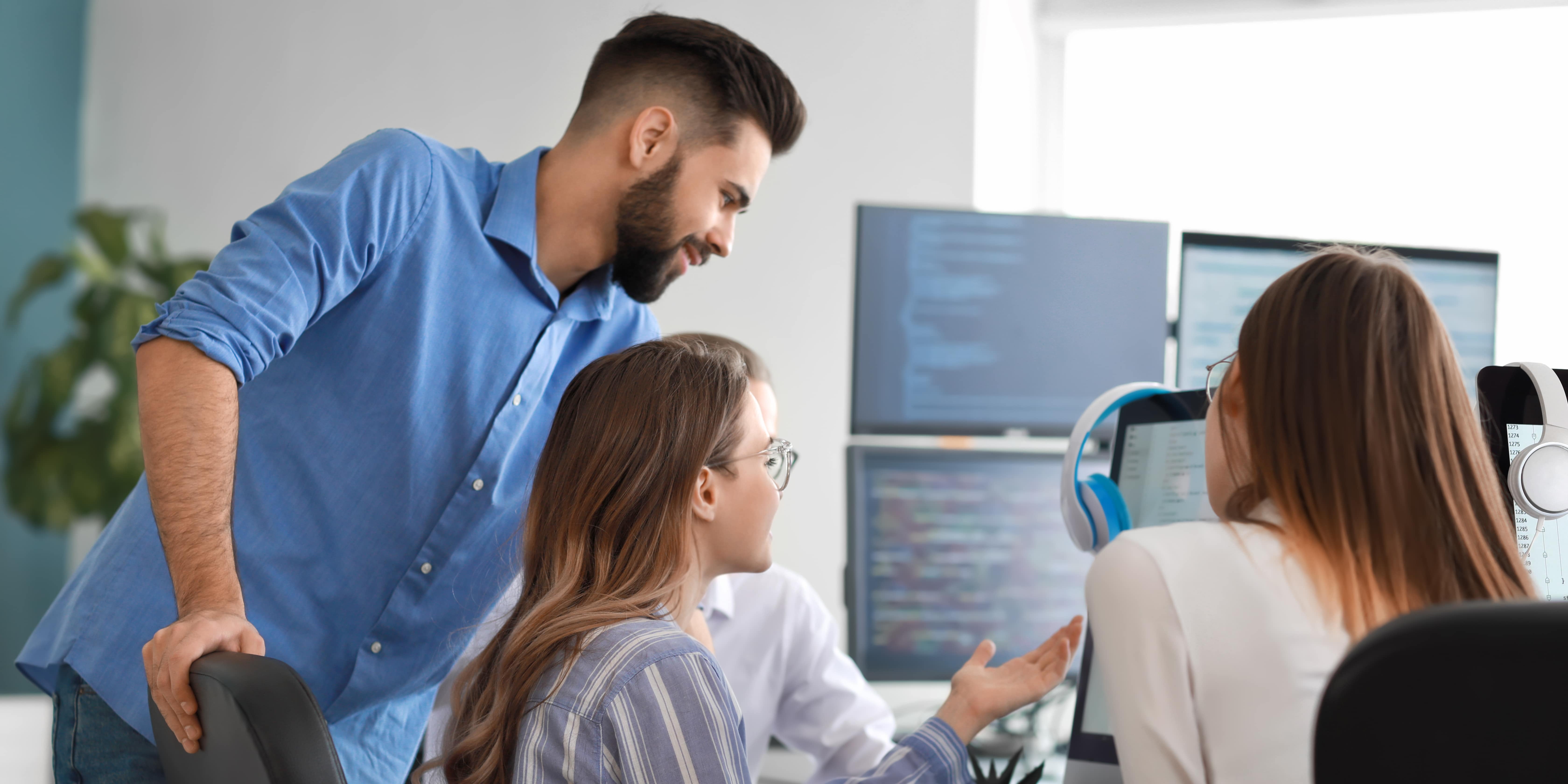 94% of businesses already use a cloud service, suggesting if you're not already taking advantage of the cloud's benefits, you could be at risk of falling behind, no matter what your industry
According to Hosting Tribunal, only 6% of businesses don't readily use some form of cloud service, with those that do leveraging five different cloud platforms, on average. It's no wonder, since cloud transformation—the process of moving your work to the cloud—yields continual value through increased data security and agile team working.
Cloud transformation continues to be every organisation's priority to keep up with the speed of business and respond to external influences, Coronavirus being a major one.
Those who don't use cloud services want to. Those who do, are looking to spend even more investing in it to keep their data safe and their teams happy.
What is Cloud Transformation?
Cloud transformation is the simple process of moving your work to the cloud, including the migration of apps, software programs, desktops, data or an entire infrastructure.
Cloud transformation is still the most popular IT environment option, experiencing triple-digit annual growth for the past six years. This is due to, among many other benefits, the increased efficiency of sharing and saving data between cloud users. Cloud services provide flexibility and scalability for growing businesses and centralise network security. Using cloud services has a profound impact on businesses, enabling teams to better communicate and interact with each other and become more efficient.
The Benefits of Cloud Transformation
Although not an easy switch to make, cloud transformation is worth it, providing many obvious and some not so obvious benefits to your business. Migrating to cloud services can:
Reduce IT costs

saving IT spend on purchasing infrastructure while only paying for what you use. The cloud isn't always inexpensive to implement but it becomes cost-effective over time, making the upfront investment of new projects much smaller or in some cases, completely removing it. This is the number one motivator for companies to adopt the cloud with

61% stating

it as important.



Increase agility and time to market

by improving operational efficiency, removing budget barriers and other obstacles like requiring new infrastructure each time you want to innovate. For this reason, cloud services also feel more scalable, staying fit for purpose as your organisation grows.



Promote team collaboration

by enabling access to important data anytime, anywhere, cited as an important factor to drive them towards the cloud by

42% of businesses

. Centralised data storage means the cloud can support teams in times of crisis when ways of working are prone to change. It also supports global and physically distanced businesses that already work remotely.



Foster innovation and a growth mindset

by picking a platform where more things are possible, at a cost that feels affordable to your business. Although the cloud surely changes the way your business operates, it does so for the better, ensuring you can innovate on the fly and feel confident about it.


The Unique Challenges of Cloud Transformation
Everything about the cloud sounds rosy—and it mostly is, once you get there. However, cloud transformation presents some unique challenges, some of which relate to the current climate and some to the cloud itself.
Organisations will need to overcome insufficient cloud skills, the pandemic's effect on slowing digital transformation and differing ideas about cloud transformation outcome and what it means for your company.
Managers will need to overcome cloud skill gaps by proactively training their professionals to understand this new type of system and how to make the most of it. Otherwise, cloud migration can be delayed

by two years or more

, if not, derailed by a lack of understanding.



Across the board, digital transformation has suffered

in the face of the pandemic. Senior leaders will need to reframe the way they think of digital transformation in the context of Coronavirus. How can you utilise the cloud to help you? How can you manage a major IT transition amongst other internal changes? How can you use this period of downtime to make positive changes to your business?


Before deciding to adopt the cloud, leadership should communicate their ideas, expectations and ideal outcomes to avoid "

cloud chaos

". Cloud migration is a complex task and configuration needs to be managed with everyone singing from the same hymn sheet.
That said, the yearning for cloud platforms and all of their benefits outweigh the difficulties of combatting the configuration stage.
Businesses are starting to understand the cloud thanks to their enthusiasm, with 68% of them considering themselves to be "intermediate" or "advanced" at cloud-related activities. As cloud becomes commonplace, our approach to cloud transformation becomes simpler, with more awareness of its benefits and its best use case for each business.
How Cloud Transformation Services Can Help
For anyone struggling with the prospect of cloud migration yet still curious enough about its long-lasting results to take the plunge, cloud transformation services lend a helping hand.
PSTG has been doing all things cloud transformation for over a decade, becoming bona fide experts in cloud migration, helping both growing and established businesses to assess, build and run a cloud environment. We've seen it all, from the introduction of edge computing to the emergence of public-private hybrid clouds. So, we're well placed to advise any type of business on their own transformation, keeping a close eye on their IT infrastructure.
Why Use Cloud Transformation Services?
Sometimes when undergoing cloud transformation, organisations find it helpful to hear an external opinion that can help to direct the best-suited cloud solutions for their business.
Knowing how to best embrace the cloud is one of the most common stumbling blocks that every organisation faces, causing teams to disagree and feel confused. But cloud adoption doesn't have to be so, well, cloudy.
Following a tried-and-tested project cycle, PSTG evaluates an organisation's existing environment to create a plan for implementation based on our findings. Approaching cloud transformation with bespoke consultancy such as this ensures that the cloud services will meet the business requirements at every step.
How Do Cloud Transformation Services Work?
Cloud transformation services are designed to steady the transition from legacy systems to cloud, supporting you along the way. As part of our project cycle, we check:
Technology compatibility to make sure all your preferred technologies will work in a cloud environment and meet your cloud objectives


Data storage options giving you the freedom to choose with cloud services you adopt, if any, and if you want to adopt multiple systems or embrace a hybrid model


Data security to ensure cloud transformation doesn't equal a compromise in terms of security. If anything, we want cloud migration to encourage even better protection against data breach


Disaster recovery to make sure your new cloud environment can deal with crises and recover from any unexpected events quickly and cost-efficiently, without losing vital data
As cloud transformation is complex, it's worth investing in cloud transformation services. Getting cloud transformation wrong can end up doing more harm than good, confusing how your data is stored and who has access to it.
If you are going to make the switch to a more agile, innovative platform, do it with an expert.