Network breaches and lost data lead to loss of revenue, possible fines and damage your reputation that's difficult to recover from. You can avoid these worst-case scenarios with data loss prevention methods. In this blog, we'll look through some of the most effective prevention solutions that will give you peace of mind.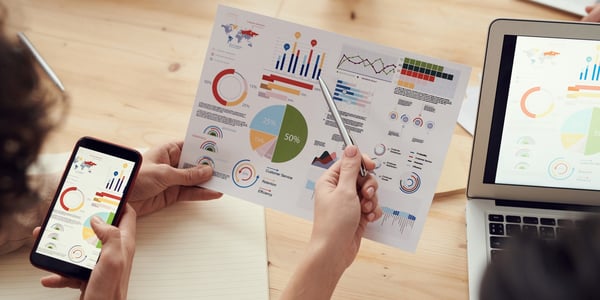 How to Prevent Data Loss
1. Patch Management
Hackers find exploits in systems and software they can use to access your data. The providers of these systems regularly roll out new patches which contain fixes for these exploits. It's your responsibility to make sure these patches are implemented to avoid being at risk of an attack.
Providers issue hotfixes when they identify an exploit, so you'll need to monitor updates to make sure you're always up-to-date.
2. Cloud Backups
One of the most effective ways of keeping all business data safe and recoverable is by utilising cloud storage. Human error, a burst water pipe or a security breach - whatever the emergency, regularly backing up data to the cloud prevents data loss and makes it easy to restore anything that's lost.
Putting all of your eggs in one basket makes recovery harder and means it takes longer for normality to resume. We'd recommend spreading out your assets multiple locations to make the disaster recovery process as fast and straightforward as possible.
3. Invest in Your IT Security
Because of concerns about new threats, compliance and privacy, global spending on IT security will reach a predicted $151.3 billion by 2023. Has your budget matched this trend? Only by giving your IT team the tools and resources they need to protect the business will prevent issues like data loss.
The IT team needs to proactively implement security measures and keep up-to-date with the threat landscape so they know what's potentially on the horizon. This is by no means an easy task which is why many businesses look for third-party support.
4. Effective Staff Education
Unfortunately, 90% of data breaches are actually caused by some kind of human error. Because of this, it's important to implement business-wide training so all staff members know and understand security best practices.
Everyone should know the procedures to follow if they suspect they're the victim of an attempted attack. Plus, security basics like password management and social engineering scams should be key parts of training so staff are always prepared.
5. Third-Party Support
Seeking support from a third-party gives you access to a wider pool of expertise and knowhow. It removes some of the burden from your IT team, giving them time to focus on how IT can be part of business growth plans.
Keeping on top of today's ever-evolving security landscape is a time-consuming task. It's difficult to keep track of new threats, manage the systems you rely on and still find time to deal with ad hoc requests.
One of the great things about third-party support is you can use them as you see fit. They can take over some of the everyday tasks that need managing or even just help on a specific project. It's completely up to you.
Working With an MSSP Like PSTG
The most effective way to prevent data loss is to partner with a Managed Security Service Provider (MSSP). As an MSSP, we always lead with security. Every process, procedure and business decision is approached with a focus on cybersecurity. This significantly reduces risk and protects both staff and the business.
Partner with PSTG and we'll work alongside your existing team to understand the daily IT challenges your business is facing. With this key information, we configure a bespoke solution that fixes any gaps in your existing security network. We might recommend slight adjustments or wider infrastructure changes - either way, we find the answer that suits your specific requirements.
Once everything's in place, we provide 24/7 technical support to reduce unplanned downtime and resolve issues before they can escalate.
Data loss prevention keeps valuable business information safe from loss and deletion. It can also ensure this data is retrievable if the worst should happen. These security measures keep your business operational and safe from the consequences of data loss.
If you're interested in the IT security services PSTG offer and you're looking to make your network as secure as possible, get in touch with our team today.
Or, if you'd like more information on the current cybersecurity landscape and how global IT security spending is reacting to growing threats, why not download our free guide? It's packed with best practices, security tips and it's completely free. Get your copy now using the link below.