Organisations are turning to RPA for greater efficiency, reduced costs and to embrace innovation. Deloitte's survey found that 57% of respondents are looking to increase process quality while 43% wanted to reduce the cost of delivery. Whatever their reason for wanting RPA solutions, they all agree it's a current priority.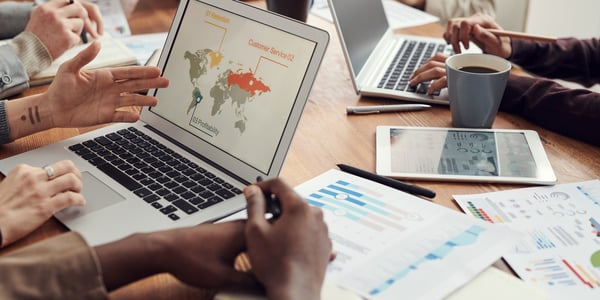 What they sometimes don't consider is how complicated RPA implementation can be without the help of a third-party.
Here are some of the reasons why your business should work with a third-party for an RPA implementation.
Avoid Disruption and Delay
Work With RPA Experts
A Bespoke RPA Solution
An Agile and Scalable Solution
Stick to Your Initial Deadlines and Budget
Avoid Disruption and Delay
Large-scale system implementations are time-consuming. Designing solutions, planning transition periods and the rollout itself are all steps that take time. Even if everything runs smoothly, it'll still take a month or two from concept through to completion.
Does your department have the time and resources to dedicate to an implementation of this kind? While management wants to focus on RPA solutions, your team still has to focus on the day-to-day running of the IT department. You can't suddenly halt password resets and system patch management. Otherwise, the rest of the business will suffer.
Engaging with an external partner ensures both the RPA project and the usual IT tasks can be completed at the same time. This is the most efficient use of your available resources and prevents anything from slipping through the cracks.
Work With RPA Experts
A common misconception about partnering is that your IT team is being replaced and someone has decided you aren't capable, so they've found someone who is. This couldn't be further from the truth.
RPA implementations simply can't work when completely outsourced. It's a collaborative process that requires input from both sides to achieve success. A partner can assist at different stages during the process but they need the valuable insight and guidance from you.
A third-party will work at your disposal and provide their expertise when needed. When PSTG acts as an external partner, we work with your existing IT team to find the most effective way of working. We'll assist with training of the RPA solution, ensuring everyone is up to speed so it can be monitored and operated by you.
Hiring RPA specialists to work as part of your team is expensive and completely unnecessary thanks to partnering. An external partner has extensive experience working with RPA tools and can implement it quickly and effectively.
A Bespoke RPA Solution
There are a number of different RPA tools available on the market that all seem like a good choice for your business. However, they're often off-the-shelf solutions that don't fully meet your specific needs. You might rely on certain systems and processes that require a more tailored solution.
Find a partner to carry out RPA implementation with and take advantage of their specialised knowledge and skill set. Through close collaboration, they can recommend a solution that's right for you and tailor it to deal with specific processes.
Don't settle for an RPA solution that's awkward and ill-fitting for your business. The best way to get the absolute most from RPA and automation is with a solution designed to improve your specific processes.
An Agile and Scalable Solution
Businesses that are inflexible and rigid usually find it harder to grow and thrive. It's vital that businesses of any size can respond to changes in the market and shifting consumer demand. Otherwise, they risk falling behind their competition.
This principle applies to RPA solutions. When creating a plan for automation at your business, it's important to think long-term. Will the solution you're designing restrict flexibility or will it scale to meet changes in demand?
PSTG separates tasks between human and digital workers when designing automated solutions. This ensures your business can remain agile and cope with evolving changes. Embracing innovation and automation in this way, with the help of a third-party like PSTG, allows your business to stay ahead of the curve.
Stick to Your Initial Deadlines and Budget
A key driving force behind the move to automation for your business might be to reduce costs. However, any issues during the implementation process can actually lead to extra expenditures and overheads.
Working with an external partner like PSTG completely eliminates this as an issue. Our experience ensures we avoid the common pitfalls associated with RPA solutions, allowing our projects to meet deadlines and stay on budget.
We enable your business to scale internal resources. It's often the first step to wide-scale automation, giving you the skills and platform needed to scale upwards.
If you'd like to talk to a member of our team about your switch to automation, the budget you'll need or what an RPA solution can do for your business, then don't hesitate to get in touch with our automation specialists now.
Getting Started With RPA at Your Business
We've put together a free eBook that's perfect if you're interested in the benefits of RPA at your business. It features some of the market trends that are at the cutting-edge of automation and everything you need to know about partnering with a specialist.
Get your copy of the eBook now using the link below and make sure you have all the essential information you need before getting started.