7 Examples of RPA Implementation in Healthcare
RPA
Written by PSTG
22 | 12 | 22
4 minute read
Written by PSTG
22 | 12 | 22
4 minute read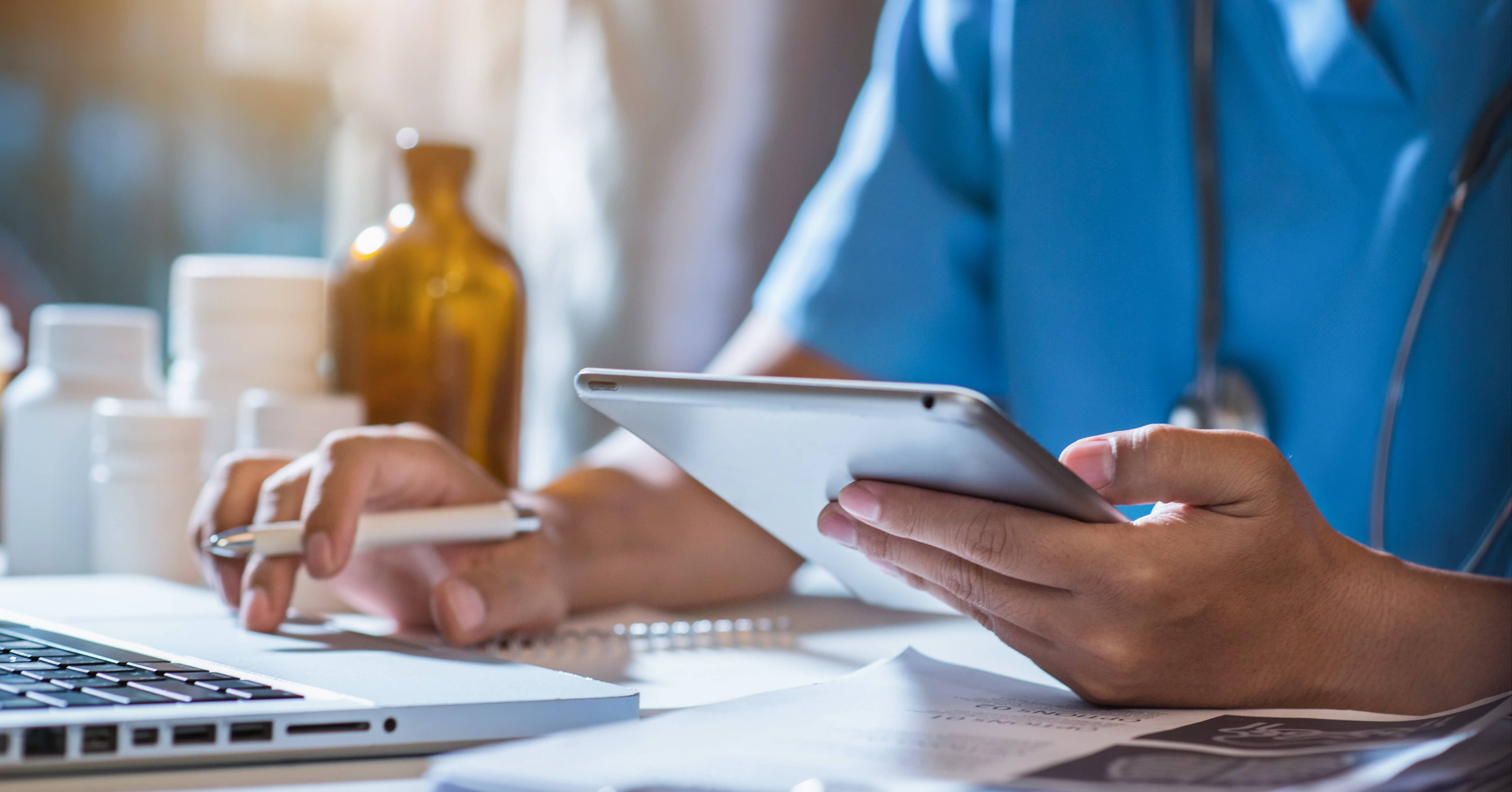 With spending projected to reach an estimated $3.3 billion in 2023, the RPA market is accelerating in popularity. This innovative technology has multiple benefits that save time, costs and resources, especially when implemented in the healthcare sector.
Here are some examples of RPA in healthcare organisations that improve administration efficiencies, leading to better patient experience and care.
1. Faster GP Referrals
Human workers have to manually download, print and scan documents when referrals come from GPs to the hospital. This is a time-consuming and menial task and because the volume is high, the patient has to wait longer for a referral appointment.
With RPA implementation, digital workers can save time by automatically scanning the documents when they arrive from the GPs. They extract the most salient information, like blood test results, before merging everything into one PDF document.
This significantly reduces patient waiting times and gives staff the freedom to focus on more pressing tasks, such as patient care.
2. Managing Inventory Levels
Without effective inventory management in place, it's easy for hospitals to misjudge the volume of medicinal equipment they need. Everything from life-saving tablets to toilet rolls needs to be managed efficiently.
Implementing an RPA solution streamlines processes, giving hospitals better control over their stock. The system can automatically ensure optimal levels and more supply is ordered when needed.
3. Ensuring Discharge Instructions Are Followed
When a patient is treated and discharged, they need to be signed out and catered to by multiple people and departments. RPA can complete any manual task that needs to take place.
It's estimated that a single nine-minute GP consultation costs the NHS around £39. If this is missed, the price remains the same. RPA can significantly reduce this cost.
At PSTG, we've already helped NHS Trusts such as the East Suffolk and North Essex NHS Foundation Trust (ESNEFT) embrace digital transformation by deploying bespoke solutions that tackled some of the most frustrating daily challenges staff faced.
To learn more about how we implemented AI and RPA innovation for ESNEFT, download our case study below.
4. A Better Allocation of Staff Time and Energy
RPA can automate time-consuming and repeatable tasks, giving human workers the freedom to focus on high-functioning tasks, such as patient care and consultation. Having staff in the right roles improves efficiency and morale, leading to better patient care.
These tasks can be automated, particularly when accessing medical records and basic data entry. It's vital that the healthcare sector embraces this move towards automation and focuses on having the most efficient RPA working on the right tasks.
5. Processing Account Settlements
RPA is changing the way businesses operate on a global scale. For example, it's used in the U.S. to quickly and accurately process patient fees.
These settlements are time-consuming to process and no mistakes must be made at any stage. RPA manages payments and ensures the right patients pay the correct fees, saving costs that could arise from errors.
Previously, this was a task carried out by human workers. The process was inefficient, leading to more mistakes and time wasted on fixing issues. Thanks to RPA, staff can now focus their efforts elsewhere in areas such as patient care and experience.
6. Equipment and Resource Tracking
Following the coronavirus pandemic, demand for essential healthcare equipment such as ventilators increased significantly. Failure to effectively supply assets can harm patient experience, increasing wait times and delaying vital treatment.
This is where RPA comes in. Digital sensors and cloud-based control panels ensures assets are easily located by staff, equipment inventories are accurate and systems are maintained regularly to prevent costly breakages.
7. Enhanced Post-Treatment Care
Post-treatment care is integral to a patient's recovery — RPA can ensure a seamless process from hospital to home. RPA-programmed care robots can send patients reminders about important actions such as taking medication or following medical advice such as dietary plans.
Additionally, RPA can even notify healthcare professionals if conditions are problematic. The RPA acts as communication between the hospital and the patient. This can improve patient experience, at-home recovery and pressure on hospitals for healthcare providers.
Start Improving IT in Your NHS Trust
After working with several NHS Trusts, we've learned that the patient comes first. We also know that there's not much time for healthcare professionals to find the technology that enables them to work more efficiently and effectively.
We're here to help reclaim that time and discover the right technology for your Trust. Simply click below to visit our IT Solutions for NHS Trusts page and see how PSTG can help to transform the way you work.