RPA is especially beneficial when implemented in the healthcare sector. Reducing patient waiting time is a key priority and an issue that can be mitigated with the use of a digital workforce.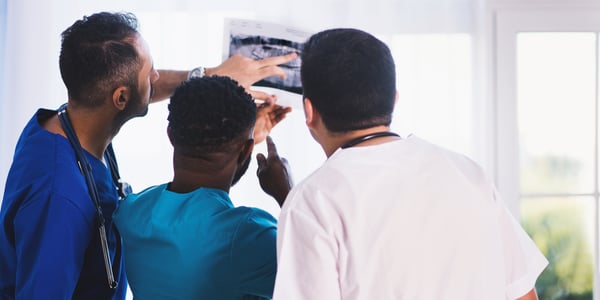 Here are just some of the processes that RPA can streamline, allowing healthcare organisations to improve the services they offer.
1. Faster GP Referrals
Human workers have to manually download, print and scan documents when referrals come through from GPs to the hospital. This is a time-consuming and menial task for the member of staff and because the volume is high, the patient has to wait longer for a referral appointment.
With an RPA implementation, digital workers will automatically scan the documents when they arrive from the GPs. They extract the most salient information, like blood test results, before merging everything into one PDF document.
This significantly reduces waiting times for patients with more referrals correctly processed as a result of the RPA solution. It gives staff the freedom to focus on tasks that require other skills, like the human engagement needed to interact with patients.
2. Managing Inventory Levels
Without effective inventory management in place, it's easy for hospitals to over or underestimate the volume of medicinal equipment they need. Everything from life-saving tablets to toilet roll needs to be ordered and managed efficiently.
Implementing an RPA solution streamlines processes and allows hospitals to have better control over their stock. The system can automatically ensure that levels are kept optimal and more stock is only ordered when needed.
3. Ensuring Discharge Instructions Are Followed
When a patient is treated and discharged, they need to be signed out and catered to by multiple people and departments e.g. Consultants, Pharmacists, Porters, Nurses and more. This process needs to happen in sync, so to accelerate the process and reduce delays RPA can complete any manual task that needs to take place.
Once a patient leaves the hospital, there's no way to ensure they follow any instructions they've been issued with regarding their aftercare. Depending on the condition of the patient, they might forget to take simple tablets that are vital for their complete recovery.
Doctors can't manually issue reminders to patients, but RPA can. RPA digital workers can automatically send reminders to patients about prescription pick-ups to ensure they have the medicine they need. This makes sure patients receive the best possible care and follow-up appointments aren't missed.
The NHS, for example, wastes £216 million a year on missed appointments. RPA can significantly reduce this cost.
4. A Better Allocation of Staff Time and Energy
RPA can automate time-consuming and repeatable tasks, giving human workers the freedom to focus on the high-functioning tasks that they were initially trained for, like actual patient care and consultations. Having staff in the right roles improves efficiency and boosts morale, leading to better care for patients.
These tasks can be automated, particularly when it comes to accessing medical records and basic data entry. It's vital that the healthcare sector embraces this move towards automation and focuses on having the right people working on the right tasks.
This is because the UK, like many other countries, has an ageing population that will put pressure on the healthcare system. Automation is the only way that the industry will be able to operate successfully in the future.
5. Processing Account Settlements
RPA is changing the way businesses operate on a global scale. For example, it's used over in the U.S. to quickly and accurately process patient fees. America's healthcare system requires huge amounts of insurance claims and account settlements to be carried out each year.
These settlements are time-consuming to process and it's vital that no mistakes are made at any stage. RPA is now used to manage settlements and ensure that the correct fees are paid by the right patients.
Previously, this was a task carried out by human workers. The whole process was inefficient, leading to more errors and time wasted on fixing issues that arose. Thanks to RPA, staff are now able to focus their efforts elsewhere.
At PSTG, we've already helped NHS Trusts embrace digital transformation by deploying bespoke solutions that tackled some of the most frustrating daily challenges staff faced.
We also deliver RPA solutions for a range of sectors. In fact, our experts have created a free eBook that's essential if you're considering an automated solution that will streamline processes, cut costs and find the best allocation of your resources.
How Your Organisation Can Get Started With RPA
Use the link below to download our eBook, 'Getting Started With RPA'. It's packed with the benefits of RPA for your business and why it's important you consider wider automation now before you fall behind the curve.
It features the latest trends within the industry and the exciting possibilities of RPA. You'll also discover how to actually implement RPA and the benefits of working with specialists, like PSTG who can successfully manage the process for you.
Get your free copy of our RPA eBook now and see how automation can transform your organisation.