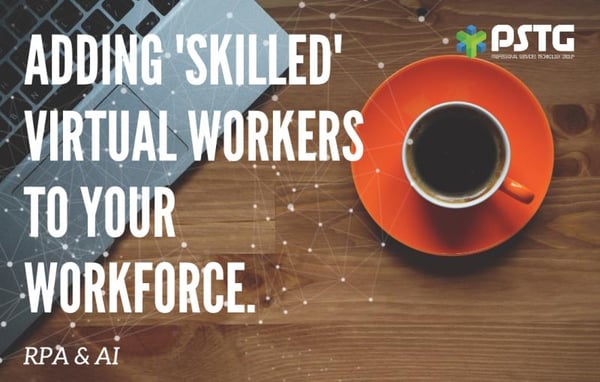 Robotic process automation (RPA) is changing the way organisations work with 'bots' making a significant impact on how processes are managed. RPA technology is being adopted as a quick and easy fix to automate manual tasks and when RPA tools perform those activities, the error-margin shrinks and data quality increases. Organisations are achieving significant time-savings and efficiency benefits.
It's a trend that is set to grow. Gartner predicts that global spending on RPA software is estimated to reach $680 million in 2018, an increase of 57 percent year over year and RPA software spending is on pace to total $2.4 billion in 2022.

To get value from RPA, combine it with AI
The early phase of the RPA market favoured "simple" processes with the three fives: fewer than five decisions, fewer than 500 clicks, and fewer than five apps accessed. In their recent report (Forrester Wave: Robotic Process Automation, Q2 2018) Forrester recommends that organisations 'find the tasks that have high transaction volume, and you'll strike RPA gold'. But these tasks will become harder to find and will lead to the integration of artificial intelligence (AI) functionalities into the product suite.
The integration of machine learning and AI technology by the RPA providers will deliver more types of automation across a broader range of business roles, from finance to marketing or HR, and scaled to support business needs.

This digital workforce delivers plenty of value to corporates, such as:

1. New levels of efficiency and productivity by removing repetitive tasks and increasing employee output

2. Improved business performance by leveraging freed up capacity to enhance experience, reduce risk and improve revenue

3. Enabling business transformation by creating new business models and products

What is RPA used for?
The biggest adopters of RPA today include banks, healthcare, insurance companies, utilities and telecommunications companies who are struggling to integrate different systems and are turning to RPA solutions to automate an existing manual task or process.
Scenarios – Finance specific:
If we take one of these sectors – finance we can see that they are using RPA to deliver superior customer care by revolutionising the way banking is done, with a focus of eliminating costly operations and systems.

• Bank account application processing and automating the decision-making process
• Deposit inquiries and services (reducing from days to minutes)
• Approvals process for home loans (reducing from days to minutes)
• Rolling out new loans
• Digitisation of accounts payable process
• Customer care processing

Common process scenarios
• HR and payroll automation
• Data sharing and migration
• Front office automation
• Reporting and compliance
• Administrative tasks

By 2021, Forrester estimates that there will be more than 4 million robots doing back office work as well as sales and related tasks. That's a lot of robots or 'virtual workers' joining the workforce – all of which need to be governed, managed and assessed.
PSTG can help you on your business transformation journey. Our expert teams can recommend which RPA/AI platform best suits your requirements, identify and map processes that are to be automated and then help execute the complete automation lifecycle. Our service desk will help optimise your automations and provide ongoing support 24/7.
Want a quick chat to discuss some options? Just call Laura on 0203 907 9500