How Does the Digital Workspace Empower Employees?
Innovation
Written by PSTG
10 | 09 | 21
4 minute read
Written by PSTG
10 | 09 | 21
4 minute read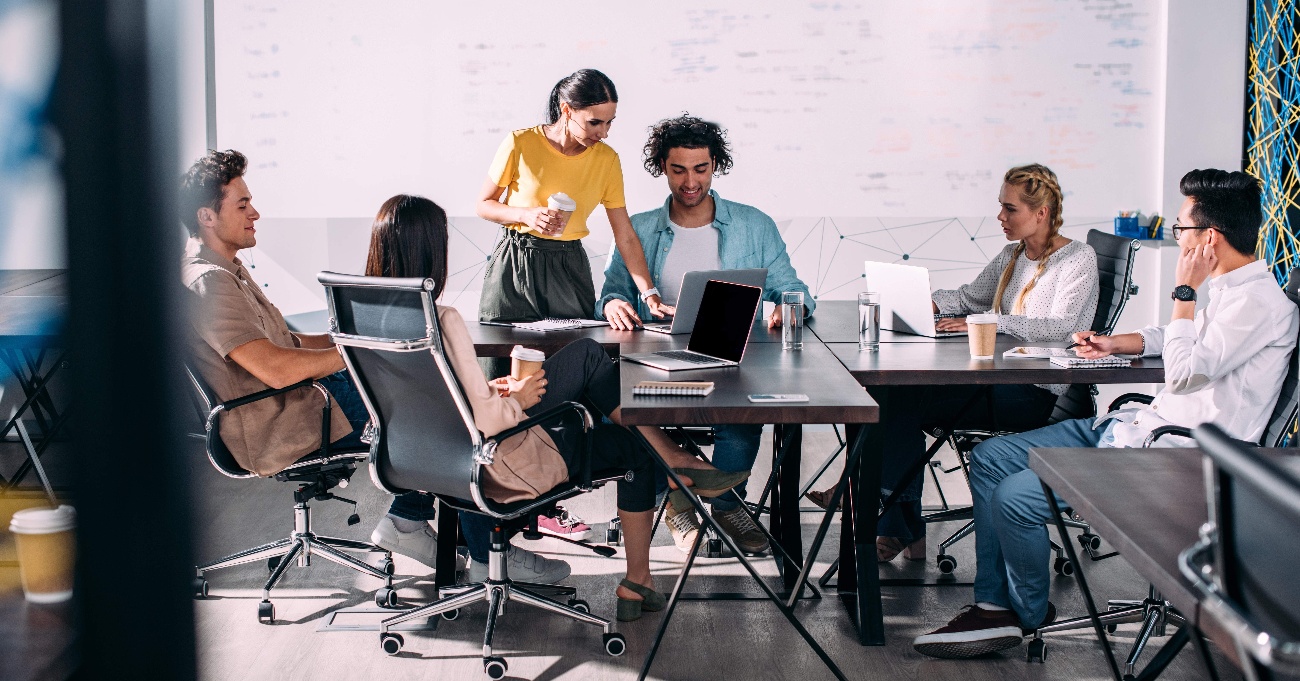 63% of full-time employees already work flexibly. 87% say they either already work flexibly or want to. This means many need the technology that allows them to do so.
These stats represent another colossal change to the conventional workplace, one driven by technology and innovation. We're talking about digital workspaces.
The digital workspace is a concept enabling employees to access the systems and tools they need from any device —smartphone, tablet, laptop or desktop — regardless of location. So how is it empowering employees?
Why Are Digital Workspaces Popular?
Emerging technologies now make it possible to deliver the infrastructure needed to enable employees to work securely and productively from home, the office or on the road.
However, the digital workspace is about more than simply enabling employees to work remotely. It empowers employees and is made possible through an enterprise's transition from hardware-centric to software-defined infrastructure.
It's the culmination of a business mobility trend that has evolved from individual and team productivity to true business process transformation and is reinventing businesses across all industries. New technologies are unlocking new possibilities.
The Definition of a Digital Workspace
Did you know that 95% of organisations agree that workspaces powered by digital innovation and capabilities are important?
To gain more insight into what people think about this concept, PSTG asked its current client base, "What is your definition of a digital workspace?" Hundreds of participants shared their points of view.
Here's what some of our clients said. One Business Director working in Professional Services said:
A digital workspace is the virtual equivalent of a physical workplace that allows users to work from anywhere, potentially increasing productivity.
A Finance Director working in Project Services stated:
The digital workspace is the convergence of mobile and desktop computing into a single point. It's an any device, anywhere, anytime concept that benefits all business divisions.
And finally, a Technical Director in IT Services added:
My definition of a digital workspace is all of the technological means required to enable me to work more collaboratively and efficiently with my colleagues and clients.
Whether employees are focused on mobility, productivity, business transformation or apps and data, the digital workspace is a concept that's the focus for many organisations.
Despite the range of definitions from end-users, it's clear the concepts of mobility, flexibility and productivity are universally understood to be key attributes of the digital workspace.
What Does a Digital Workspace Include?
While many digital workspaces may look similar, they're never truly the same. A robust example will naturally include the following features:
File sharing and collaboration software.
Unified endpoint management for all devices.
Secure access to Software-as-a-Service applications.
Secure browsing.
Desktop and/or app virtualisation.
Automation.
There may even be artificial intelligence or machine learning added into the mix.
Digital Workspaces vs. Digital Workplaces
Many think these terms are interchangeable, but there's a distinct difference between the two.
Digital workplaces are fixed points set up by servers and endpoints that inhabit a space, such as an office. Digital workspaces aren't fixed, brought together by cloud-enabled tools that allow for flexible working and improved productivity. Digital workspaces allow employees to work anywhere.
So many workspaces and workplaces are hybrid models, fitting both definitions, but the flexibility offered by digital workspaces is definitely a benefit. So what are the others?
What Are the Benefits of the Digital Workspace?
Around 17.5 hours a week are spent solving miscommunication problems. Digital workspaces bring people together, reducing that drain on time.
The digital workspace broadens the idea of mobility to encompass the workplace. Mobile technologies have enabled individual employees for decades. Working from home, remotely or from a Wi-Fi hotspot is commonplace today.
However, the digital workspace extends those concepts of mobility by leveraging advances in infrastructure technology to remove any remaining barriers for end-users.
It's less about an individual employee who can access company systems from any remote location and more about delivering everything an individual employee needs to be productive — regardless of location, device or app.
Summarising the Digital Workspace
Let's sum up. Implementing a robust, secure and flexible digital workspace within your business:
Improves the way employees collaborate and share information.
Promotes inclusivity by bringing people together within one digital ecosystem.
Enhances the digital capabilities of a business.
Reduces the working limitations of employees.
A better employee experience.



PSTG: Planting the Seeds for Business Transformation
PSTG take digital transformation to the next level. When a client is engaged in a modern workplace project, we ensure cloud technologies don't just focus on digital transformation.
At PSTG, we believe digital transformation is about the organisation and how its people utilise technology to make work smarter and not harder. To learn more about our modern workplace offerings, download our services guide today.