What is Collaborative Working? Efficient Workplace Communication
communication
Written by PSTG
23 | 07 | 21
5 minute read
Written by PSTG
23 | 07 | 21
5 minute read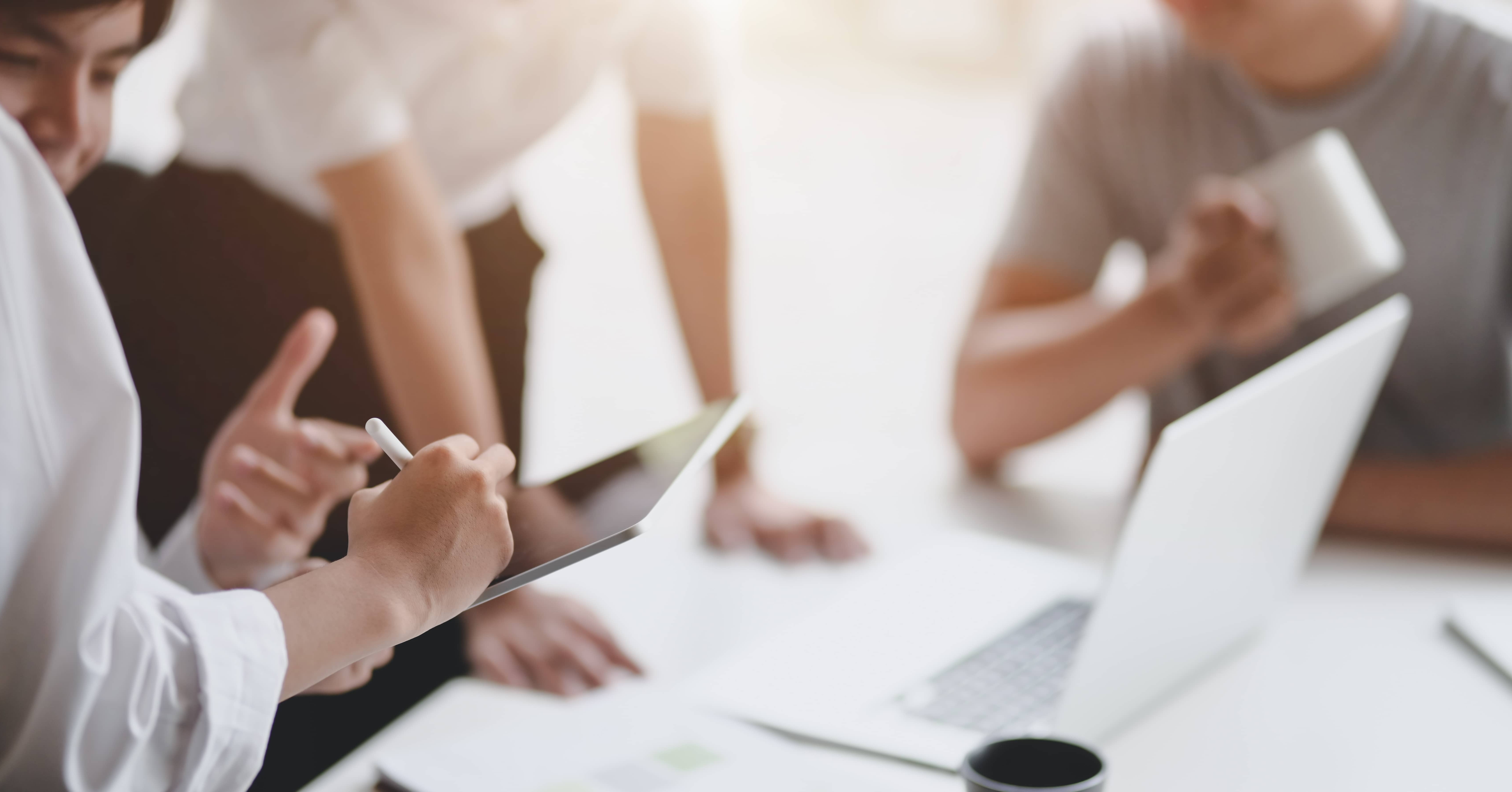 In 2020, almost 50% of people worked at home for a period of time due to the pandemic, with 30% of people working more hours than usual. This had a serious effect on communication, with one survey by Hays discovering that 43% of workplace professionals stated that communication was the area that most needs improving.
Communication in collaborative working is crucial. These statistics tell us that maintaining or improving the communication capabilities of staff that may or may not be working from home is one of the main focuses for future growth and productivity.
So what are the key things that contribute to effective communication in collaborative working environments? In this blog, we'll explore what's needed. Use the links below to skip to any section you'd like to read.
Establishing a Culture of Communication: 97% of Workers State Communication Directly Impacts Day-to-Day Tasks
Why a culture of communication? Because that statistic shows it's on the mind of the vast majority of employees and because good practices are cyclical, they build upon themselves. Improved communication helps to achieve a number of fantastic outcomes, such as:
Increasing returns.
Building stronger internal and external relationships.
Differentiate yourself in your market.
Increase productivity.
Reduce conflict.
Improve visibility.
So how do you go about establishing a culture of communication?
Put the Emphasis on Sharing and Dialogue
Good communication depends on creating dialogues that flow both ways. For example, good feedback isn't just providing a lot of detail on what you think of a piece of work, it's about striking a conversation and mutual understanding held by all parties regarding that work, so any improvements or learnings can be shared properly.
The key to this kind of communication is an open and trustworthy company culture that encourages open dialogue and promotes the idea of transparency within communication.
Gain Employee Buy-In
Any communication strategy within collaborative environments needs the people using those strategies to actually believe in them. And if the time comes that they have a problem with the strategy, suggest a solution rather than sitting on it.
A workforce needs to be provided with value, in both the strategy itself and the tools needed to implement it. For example, collaborative work depends on being able to supply employees with the means to collaborate. If two employees can't share a file and edit it together simultaneously when working remotely, any chance of real-time collaboration will be hindered.
In this respect, visibility is important. Employees need to be provided with the physical means to show their engagement and their buy-in. This will usually be in the form of fit-for-purpose software that provides people with those capabilities. More on this later.
Define How to Communicate
This might sound a little odd, but bear with us. Defining communication isn't about some linguistic explanation - rather, what we mean is that a business needs to define the ways in which communication is done internally and champion them.
If a business wants to get people using online chat, such as within Microsoft Teams, make sure everyone is trained in use of the platform and there are easily-available rules and steps for official communication channels
Consider Your Communication Endpoints: Using Technology to Monitor Communication Has Increased by 16% Since 2020
Communication is only possible with the right endpoints. Even with the right software and the right attitude/culture of communication, employees still need up-to-date laptops with video capabilities. Even training them to use personal smartphones to make and answer work calls and join video conferences goes a long way to improving communication - especially when working remotely.
The focus companies should take is to identify what kind of endpoints are the most advantageous for their teams. Those companies that have a large majority of people who are currently working remotely or will continue to work flexibly will be more reliant on things like video conferencing and cloud-based communication and file sharing, so onboarding the endpoints that allow for these practises is a must.
On top of this, you can determine the overall needs of your current communications strategy in relation to your digital infrastructure and work on improving your staff's capabilities through technology.
Improving Digital Communication Capabilities: Poor Communication Is the Main Reason for Undelivered Work for a Third of Employees
Digital transformation is on the tip of many business executives' tongues right now. In fact, the value of digital transformation investments will increase to over $6 trillion by 2022. Integrating new tech or updating existing software is fast becoming the method of differentiating yourself amongst competitors and nowhere are the effects felt more than in communication.
Transforming how you use your digital infrastructure to communicate doesn't necessarily mean huge sweeping changes to what software you're using. Sometimes it can just be simple practices that start to be championed, such as:
Reducing meetings through online reporting tools and conducting what meetings are left via video conferencing.
Utilise cloud-based work apps that employees can download and access on their smartphones, aiding in communication and visibility across projects.
Work with IT service providers to discover the full capabilities of your current IT ecosystem.
On that last point, consider Microsoft 365. It's a brilliant product, but many of those who use it aren't IT experts. They might click open Word, Excel, Outlook a few times a day - but what about all the other apps that come as part of an M365 subscription? More often than not, companies are either:
Unsure of what they already have available in terms of software.
Paying for more than what they need.
Microsoft 365 is one of those service offerings that can almost be too much to understand for the average employee. Even so, it's worth looking into what you've already got at your disposal before making any massive changes.
Now, improving your digital infrastructure to directly influence communication capabilities isn't going to be a complete walk in the park. Sometimes it means introducing new software into a tech stack, but it usually means developing on what you already have, using your software to the best of its abilities.
Other times, it means centralising your communication capabilities into one fit-for-purpose IT ecosystem. To explore more on what that means and the benefits it brings, read our guide.
Centralising Business Communication Through Technology
For a smarter approach to business communication this year and beyond, technological improvements are key. Communication trends are moving to things like cloud-based applications and Software-as-a-Service models, rather than traditional phone systems that bring with them expensive monthly contracts.
It's not about the work phone anymore, it's about using an endpoint (like a smartphone) to access a bespoke communication platform anytime, anywhere. This is the type of solution that can be used over many devices, so while we say centralisation, communication is actually now more spread out.
It's centralisation in software, distributed through accessible hardware. To see more about harnessing this convenient, agile communication methodology, click the link below.