Your Guide to a Bring Your Own Device (BYOD) Policy
Hybrid Working
Written by PSTG
31 | 12 | 21
4 minute read
Written by PSTG
31 | 12 | 21
4 minute read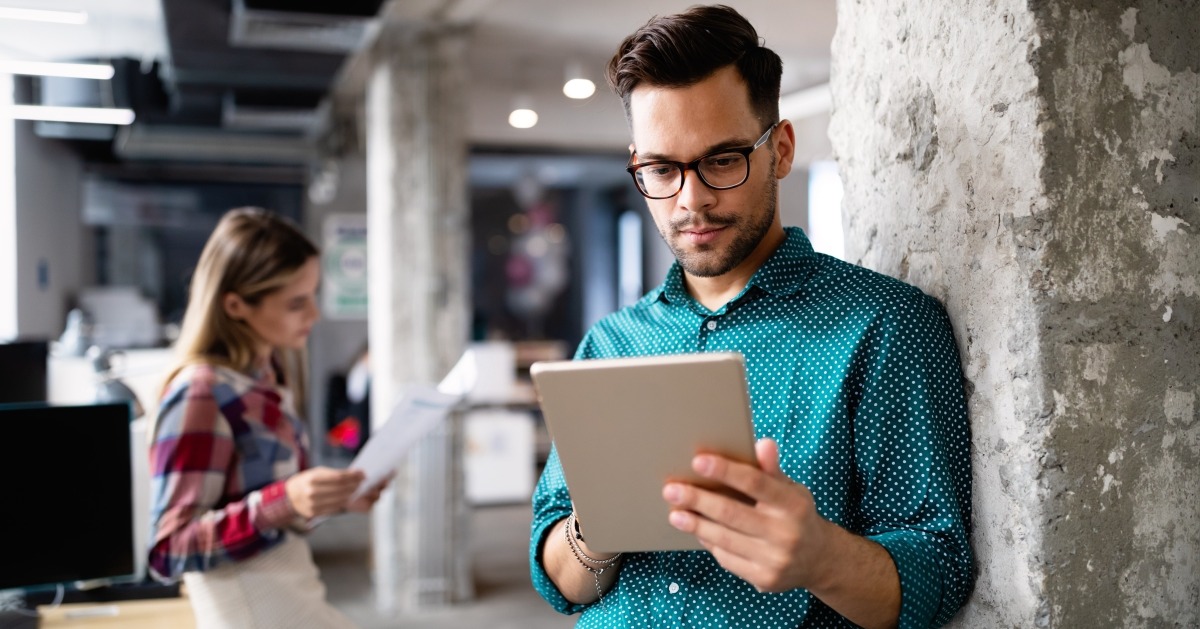 Many organisations are drafting BYOD policies as it's part and parcel of facilitating flexible work. Get to grips with BYOD policy, as well as the notion of BYOD, deciding whether it's suitable for your organisation and, if it is, how you'll safely adopt and introduce it to your team.
What Is BYOD?
BYOD, Defined
Bring Your Own Device (BYOD) refers to the use of personally owned devices for organisational purposes. At a glance, BYOD might seem to blur the line between work and play while posing some serious data and privacy concerns. But in practice, BYOD can make remote working and hybrid environments that much more feasible, accelerating your cloud transformation plans.
Advantages and Disadvantages
The disadvantages of BYOD are overwhelmingly obvious, with security being the biggest concern. With less control over personally owned devices, organisations will need to work doubly as hard to secure sensitive information and provide guidance around the use of devices.
Aside from this, companies will need to consider the cost implications for employees and the potential for program disparity across different devices. While some employees may be working on Mac, others may prefer Windows, making processes and shared interfaces all that much more complex.
On the flip side, this lowers organisational costs and collateral when asking employees to work from home. It represents a leaner way of working and empowers teams to work flexibly, using familiar technologies. This has great potential for better productivity amongst your team, with 49% of employees claiming to be more efficient when using their own devices.
If organisations can overcome the risks associated with BYOD by creating a BYOD policy, they'll reap the rewards of having a happier, more engaged workforce.
Drafting a BYOD Policy
Why Should a Business Create a BYOD Policy?
A BYOD policy is critical for many organisations, helping them support the transition to hybrid working. If you've decided that BYOD is for you, you'll need a policy to go with it. As we've noted, there are many risks associated with allowing the use of personally owned devices, so written guidance needs to support the selection of devices and their use for organisational purposes.
A policy helps protect your duty to data compliance and create an element of uniformity across your team.
With a BYOD policy, organisations get the best of both worlds by embracing flexibility while providing structure to help employees navigate this new way of working. A BYOD policy does give organisations something to fall back on in case of a data breach. However, it also helps prevent unnecessary data exposure and streamlines how we share and collaborate with others while out of office.
What Should Go In a BYOD Policy?
You should strategically draft your BYOD policy to include guidance for employers and assurance for insurers, keeping all policies clear and actionable.
Clarify the Use of Devices
Front and centre, organisations need to dictate which types and models of acceptable devices. For example, are smartphones an acceptable form of BYOD? Or will you permit laptops? Are Android and Apple the only two trusted device types — and why?
Storage and Separation of Data
Making clear which devices to use, BYOD policy should also provide insight into how to use them. How should employees store work files? What are the procedures for keeping personal and organisational information siloed? And who governs this?
Advice on Applications
Some technologies help to facilitate BYOD practice, such as project management software, while other applications might pose a security risk. Within the BYOD policy, outline both prohibited and mandatory technology, ensuring every device is set up in the right way and steers away from any potentially compromising software.
Employee Best Practices
After reading the BYOD policy, employees should feel confident in deploying their own devices, understanding best practices around password setting and data usage. The most helpful BYOD policy is thought about enough to include links to training to further support teams during their transition.
Compliance and Insurance Considerations
The responsibility of BYOD doesn't all sit on the individual's shoulders. There's also an element of organisational responsibility as the employer. For this reason, continual compliance monitoring and proof that your data is encrypted via all devices forms an integral part of the BYOD policy.
Employers should also address procedures in extraneous circumstances, such as if a personally owned device is broken or is being serviced.
How to Enforce a BYOD Policy
While a BYOD policy looks all well and good on paper, it does need to hold its own in the event of a data breach. For example, BYOD was recently attributed to a data breach compromising the personal information of over 30,000 people. As well as providing valuable guidance to avoid such eventualities, BYOD policy should offer a safety blanket for if all else fails. It should provide clear processes to help companies quickly react and recover in the worst-case scenario.
In short, a BYOD policy should be enforceable.
For it to be so, your BYOD policy needs to be prescriptive, outlining the actions for different types of data breaches, depending on its source and impact across the organisation. It should also hold people accountable for those actions and ensure they're notified and aware of their role in the process.
But how do we come to these conclusions? Before even writing a BYOD policy, it's essential to conduct an assessment so you can evaluate the possible risks and challenges of a hybrid environment. In turn, you can work towards realistic scenarios for recovery.
Need support in taking this first and all-important step? Read our blog all about IT security risk and compliance audits to help you get geared up for cloud transformation, with BYOD at its core.