Top 4 Workplace Collaboration Technology Trends for 2022
Hybrid Working
Written by PSTG
08 | 04 | 22
6 minute read
Written by PSTG
08 | 04 | 22
6 minute read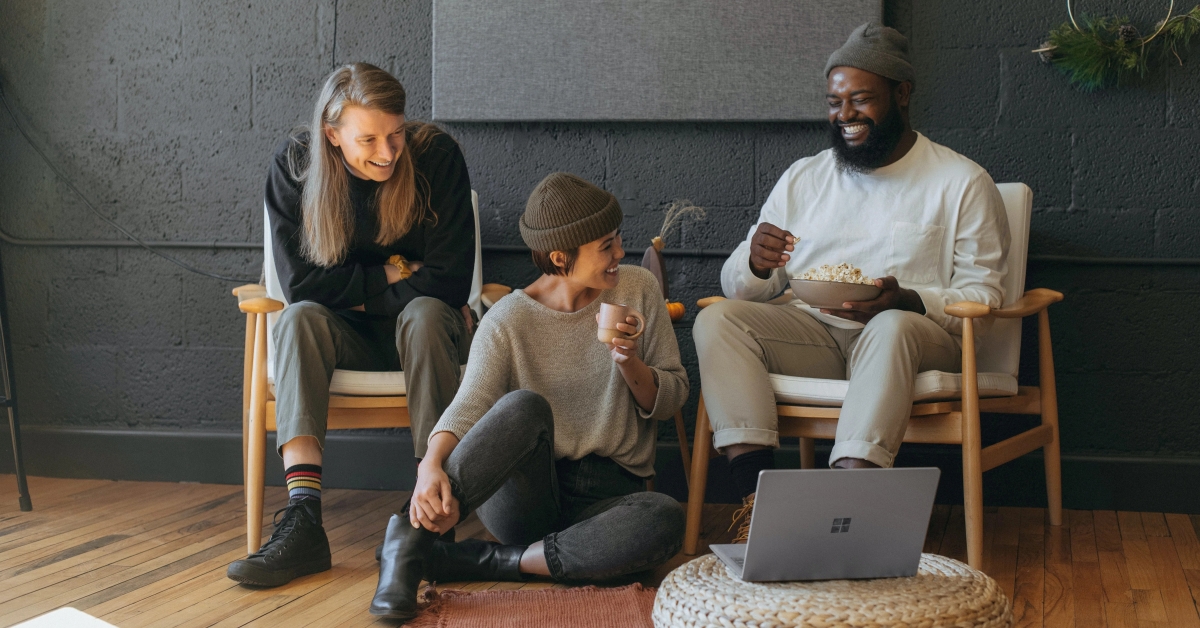 Workplace collaboration is important for many reasons, from employee morale and efficiency to knowledge sharing and, well, improving your business' bottom line. Now, in the age of hybrid working and digital transformation, we look at the technologies set to transform the way we share, learn and grow together.
1. Hybrid Working Technology
As hybrid working continues to rise in popularity, digital collaboration becomes ever more important. Nearly 80% of hybrid teams used collaborative tools in 2021, which will surely increase as distanced working matures.
Different technologies are being developed to meet the needs of these teams, including software to support document and file sharing, project ideation, project management, timekeeping, communication, HR, engagement and more.
While Microsoft's Office 365 package is the first technology that springs to mind — with collaborative document editing, encrypted file sharing and now learning and sharing tools with the most recent addition of Viva — there's a plethora of platforms created just to better the hybrid experience.
Milanote, for example, is a platform that calls itself "the ultimate moodboard maker", allowing teams to add creative ideas and watch in real-time as users contribute. PeopleHR is a cloud-based HRMS that gives employees easier access to holiday requests and personal data, helping bridge any digital gaps between employee and employer.
These are only a couple of examples of hybrid technology in practice. By the end of 2022, we predict there will be a software solution already in place or in development to solve any collaboration issue you can think of.
2. AR, VR and Other Immersive Technologies
When it comes to collaboration, it makes sense to invest in immersive technologies to make teams feel physically connected, as well as aid visualisation and interaction. Virtual reality (VR) and augmented reality (AR) are already commonly used in certain industries — property and travel being good examples.
In property, VR allows for internal collaboration between surveyors, architects and investors as plans can come to life and create better buy-in for projects. According to Goldman and Sachs, as many as 1.4 million real estate agents use VR to showcase properties to prospective clients.
In travel, 360-degree cameras are useful for depicting a destination. It has become a powerful tool for those in travel and tourism to better collaborate with their consumer, with 51% of surveyed travel customers across 21 countries viewing VR as the most appealing concept for the travel booking process.
However, in 2022, we hope even organisations outside of these industries can find ways to benefit from immersive tech. Harvard Business Review (HBR) has been instrumental in demonstrating the value of AR in communication. With a dedicated app, HBR proves how complicated concepts can be more easily communicated through 3D modelling, creating interactive experiences between teams even outside of physical meetings.
HBR believes every organisation needs an augmented reality strategy as it's a powerful tool for education, finding use in many areas of a business, including; product development, manufacturing, logistics, marketing, sales, after-sales and human resources.
As Michael E. Porter of HRB expresses: "There is a fundamental disconnect between the wealth of data available to us and the physical world in which we apply it", with immersive technology as the obvious answer.
---
Collaborative Working Isn't Just about Using Technology — Learn All There Is to Know on One Dedicated Page
Whether you want to skip straight to the good stuff or finish this post before bookmarking a more in-depth read on the topic, we've prepared an authoritative take on collaborative working, allowing you to become an expert in a single scroll.
---
3. Asynchronous Video Tools
Video conferencing is still a vital collaboration tool, with innovations in this field springing up every day. Microsoft Teams remains one of the frontrunners for all-around meeting communication, but new, more niche software is being developed all the time.
For example, video conferencing for interview purposes is being refined to promote fairer recruitment, with platforms like Equitas using AI to give interviewers prompts and statistics post-interview. With data suggesting that race, gender and even height are discriminated against in the hiring process, this is an important development to encourage unbiased collaboration and decision-making.
Yet, video conferencing as a whole is losing some of its charm. A new phenomenon, Zoom fatigue — a condition verified by Healthline — opens up a new conversation about the benefits of asynchronous video.
Asynchronous video is like a tennis game of talking between two or more people in filming segments to increase efficiency and overcome obstacles.
Hurdles such as synchronised internet connectivity, setting a meeting time where everyone is available, communicating messages between different time zones and meeting fatigue are solved with asynchronous video. It trumps email and retains the power of video without the negative effects of back-to-back meetings.
Platforms like Vidyard advocate the use of recordings to create permanent, documented messages that can be timely, personalised and accessed at any time. These videos have plenty of use cases, including helping remote teams, providing quick project updates and aiding leadership best practices where management keeps teams in the loop in real-time.
4. AI and Automation
Automation can feature heavily in some of the software we've already mentioned, such as in popular hybrid working technology. If you're a Microsoft 365 user, you'll be familiar with Power Automate, an automated tool to enhance workflows using AI now part of a standard 365 subscription.
Automation and AI are used for several functions. They can enhance collaboration by either directly prompting users to interact, such as in the case of message and email reminders or by freeing up employee time to spend more time on collaborative projects.
To create efficiencies, automation can play a large role in marketing and finance. While 74% of marketers say the most important benefit of automation is saving time, Accenture states that as much as 80% of the financial process can be automated.
Make Collaboration Easier in One Swift Move — Explore Our Digital Transformation Services
Investing in hybrid, immersive, video and automation technologies can sound overwhelming — despite knowing the benefits of digital workspaces. Instead, it's sometimes easier to introduce collaborative technologies by undergoing the valuable digital transformation process.
Improving your cloud environment and covering essentials such as compliance first can give you the foundation to feel confident to invest in more innovative solutions.
Discover our full range of services for SMBs to make the first move to a more collaborative, synergetic workplace.